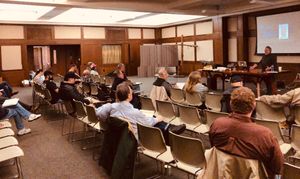 Craig Carothers Songwriting Workshop
Craig Carothers will present a pro songwriter workshop for NSAI Central Arkansas on Saturday June 20, 2020, from 1-4 p.m.
Craig is an award-winning songwriter,  artist, and producer. He has had his songs recorded by Trisha Yearwood, Kathy Mattea, Lorrie Morgan, among others. As a performer, Craig has shared the stage with the likes of Michael McDonald, Janis Ian, Donovan, Anne Murray, John Hyatt, and David Wilcox. As a songwriter, he's a co-writer on songs with Don Schlitz, Bruce Hornsby, Marty Stuart, and Don Henry. You can find more info on him at www.craigcarothers.com.
Workshop Cost: $20 / NSAI members; $25 / Non NSAI members.
Seating is limited, so we recommend you purchase your ticket in advance. Cash at the door will be accepted also. 
Craig will also grace us with a performance in the area either the night before or the night of the workshop. Times, locations, and additional details TBA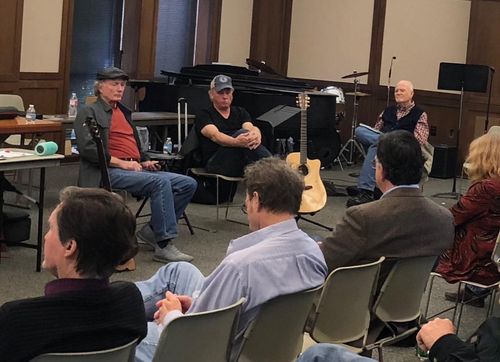 Wood Newton & Rafe Van Hoy
Arkansas native Wood Newton has had his songs covered by Kenny Rogers, Oak Ridge Boys, Steve Wariner , Anne Murray, David Ball and a host of others . Rafe Van Hoy has many cuts under his belt , including the classic "Golden Ring" by George Jones & Tammy Wynette. They shared many anecdotes of their experiences with artists , publishers and other songwriters. They also offered insight into their writing process, We heard snippets of great songs like 'What's Forever For" by Rafe , and "Twenty Years Ago" by Wood , along with other tunes.  All in attendance walked away impressed and better informed on the challenge of making it in the songwriting business.  
The NSAI Central Arkansas Chapter tries to bring in Pro songwriters every year to give local songwriters  a chance to learn from someone who has had success with their writing , has experience with the music business in Nashville , and has a desire to teach and help other writers. In the past few years, we have featured Richard Leigh , Wood Newton , Rafe Van Hoy , Erin Enderlin , Craig Carothers , Max T Barnes and many others. This helps us meet our mission statement , to help & inform songwriters. As songwriters, it is important to understand that there is always room to grow and improve. Even the pro writers who come in know that the songwriting market is always evolving , and you have to change with the times  to succeed.