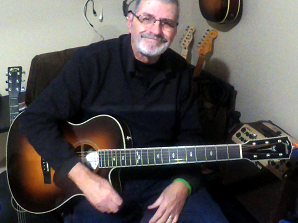 Don Tucker has been a coordinator for the Little Rock NSAI chapter since 2011, and a NSAI member since 2010. He teaches guitar, songwriting and ukulele at Starling Music Studio in Bryant. He also can be found most Sunday mornings at 11:00 at FUMC Church in Bryant, Arkansas playing guitar in the Worship Band.
Don's song "The Gift, is used by Donate Life Arkansas to promote Organ Donor Awareness,  Don has had a variety of life experiences that he pulls from to write songs about lov , family, relationships, dogs and life in general. Another passion of Don's is supporting Veterans by being a member of Freedom Sings USA, an organization that writes songs for vets by listening to their service stories, writing a song about it, and presenting  that song to them. You can find our more about this project at Freedom Sings USA

You can find Don's music on Reverbnation.